Welcome
The Behav­ioral Research and Ther­apy Clin­ics (BRTC) at the Center for Behavioral Technology is a clin­i­cal research cen­ter focus­ing pri­mar­ily on the devel­op­ment and eval­u­a­tion of psy­chother­a­pies for indi­vid­u­als with severe and chronic per­son­al­ity dis­or­ders. The research, which has been funded by the National Insti­tute of Health, the Bor­der­line Per­son­al­ity Dis­or­der Research Foun­da­tion, the Ben­nett Fam­ily Foun­da­tion and oth­ers, focuses on the understanding, assess­ment, and treat­ment of sui­ci­dal behav­iors, drug addic­tion and of Bor­der­line Per­son­al­ity Dis­or­der. The pri­mary treat­ment under devel­op­ment at the BRTC is termed Dialec­ti­cal Behav­ior Ther­apy, which is a cog­ni­tive behav­ioral treat­ment devel­oped by Dr. Mar­sha M. Line­han. The BRTC is a free-standing unit at the Uni­ver­sity of Wash­ing­ton whose funding-to-date has been through research grants and con­sult­ing income gen­er­ated by research staff. »Read more
PLEASE HELP SUPPORT THE BRTC: Build­ing Knowl­edge to Chal­lenge Suf­fer­ing. Build­ing Lives Worth Living. Contribute here.
OPEN: Dialectical Behavior Therapy Friends and Family Group. Click here for more information.
OPEN: Dialectical Behavior Therapy for adolescents and adults. Click here for more information.
Congratulations to Marsha Linehan for receiving the Career/Lifetime Achievement Award from the Association for Behavioral & Cognitive Therapies (ABCT)! This is the highest award given by ABCT and honors those who have made significant contributions over a number of years to cognitive and/or behavior therapy. She will be recognized during the Awards Ceremony on Friday night, October 28, 2016 at the 50th Anniversary Convention of ABCT held at the Marriott Marquis in NYC.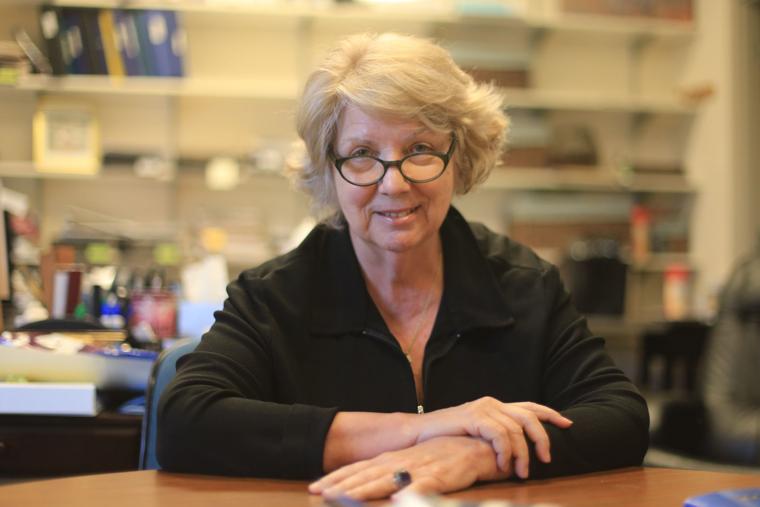 Photo courtesy of Andrew Chan/The Daily
Marsha Linehan was recently interviewed by The Daily for being the recipient of NAMI's Scientific Research Award, also highlighting the BRTC's role in advancing suicide research. You can read the article here.
NOW PUBLISHED! Mar­sha Linehan's Updated Skills Manuals
For Ther­a­pists. Pro­vides vital tools for imple­ment­ing DBT skills train­ing. The teach­ing notes and repro­ducible hand­outs and work­sheets used for over two decades by hun­dreds of thou­sands of prac­ti­tion­ers have been sig­nif­i­cantly revised and expanded to reflect impor­tant research and clin­i­cal advances. Click here for 20% off.
For Clients. Fea­tures more than 225 user-friendly hand­outs and work­sheets, to be used by clients in dialec­ti­cal behav­ior ther­apy (DBT) skills train­ing groups or indi­vid­ual ther­apy. All of the hand­outs and work­sheets dis­cussed in Mar­sha M. Linehan's DBT Skills Train­ing Man­ual, Sec­ond Edi­tion, are pro­vided, together with brief intro­duc­tions to each mod­ule writ­ten expressly for clients. Click here for 20% off.