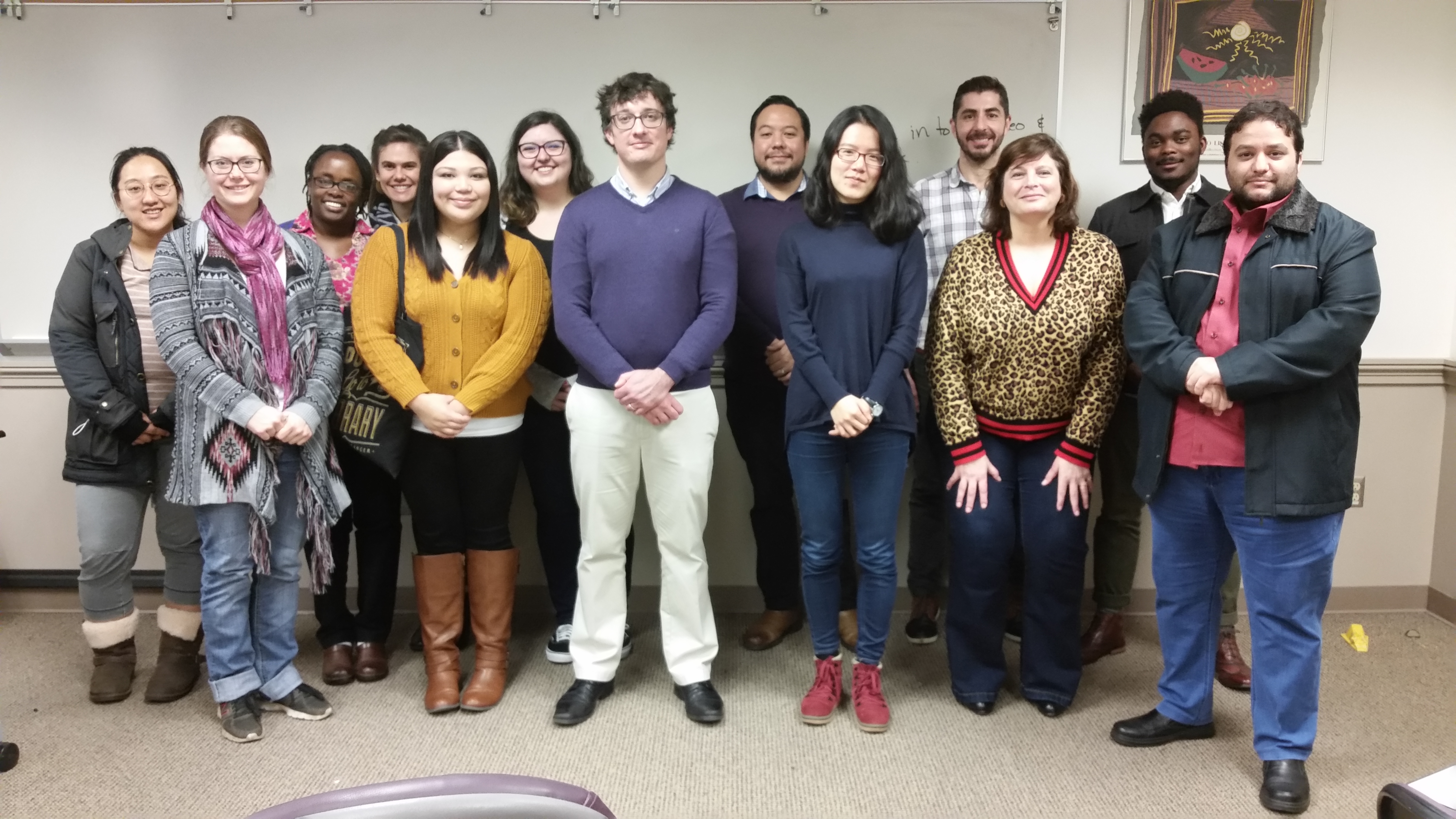 Workshop participants from UW Libraries, EWP, IWP, and CIC.
CIC recently partnered with UW Libraries Research Commons to offer a workshop on digital storytelling for instructors to learn more about representing research in video form. The Research Commons typically offers a Digital Storytelling Fellowship (DSF) for ten graduate students on a quarterly basis, and many instructors in the English Department and beyond have expressed interest in these projects.  There are natural connections to public scholarship and the recently updated Expository Writing Program (EWP) course outcomes for 100-level composition courses that include a multimodal approach.  Some instructors who attended from the Interdisciplinary Writing Program (IWP) specifically wanted to make their research findings on disciplinary topics more accessible to communities they work with and research such as health topics in east Africa and fisheries.
Matt Howard, an EWP instructor who had previously participated in the more extended DSF, was originally interested in "platforms for conveying research in a fast, efficient, and memorable way" and feels that he gained "a good grasp on building narratives with imagery, sound, and purpose."  He is now building a sizable portion of his own research upon technological composition practices, and he'd like the broader strokes of the project to be more publicly accessible.  He intends for his students to create their own digital storytelling projects this quarter.  For other instructors interested in digital storytelling, he advises thorough scaffolding and explaining the necessary elements of creating such a project.
Zhenzhen He-Weatherford, another EWP instructor, is attracted to digital storytelling because of her interest in multimodal composition, which she has taught at three different levels within the past year. She offers digital storytelling as one option for students and came for the workshop to better support her students in the future by designing her course to meet their needs as they negotiate the challenges and opportunities of working with technology. She is also personally committed to "destabilizing some privileged ways of composing texts, thinking, making meanings, and communicating meanings" and adds that "digital storytelling is a great way to communicate in nontraditional ways."
The recent CIC workshop focused on how to use digital storytelling in a classroom.  As an initial activity before meeting, participants were asked to create a short introduction video and post it to a group chat.  For this particular workshop, the Research commons used WeVideo for editing and Slack for group chat.  The prompt itself was given as a video that used screencasting to show the basic editing functions of WeVideo.  It also asked participants to write a script to introduce three things into a short digital story: name, favorite food or hobby, and why they were excited about research.  They should include images that connected with the information in this introduction.  The finished videos were posted onto Slack so that the other workshop participants could view them and respond before meeting.
During the workshop, the librarians played several of the introductory videos as a way of prompting discussion about different editing tools and features participants had discovered and used in various ways (like subtitles or audio) as well as different rhetorical strategies and new kinds of meaning that came from combining words, images, and other resources.  Elliott Stevens and Perry Yee explained that there are several reasons for this activity.  First, participants who are intimidated by technology have time and space to learn how to navigate features of the video editing program.  Second, fostering community and communication around these video research projects is one of the biggest draws for most DSF participants.
Stevens and Yee typically use a process approach when introducing digital storytelling to students based on the work of Samantha Mora.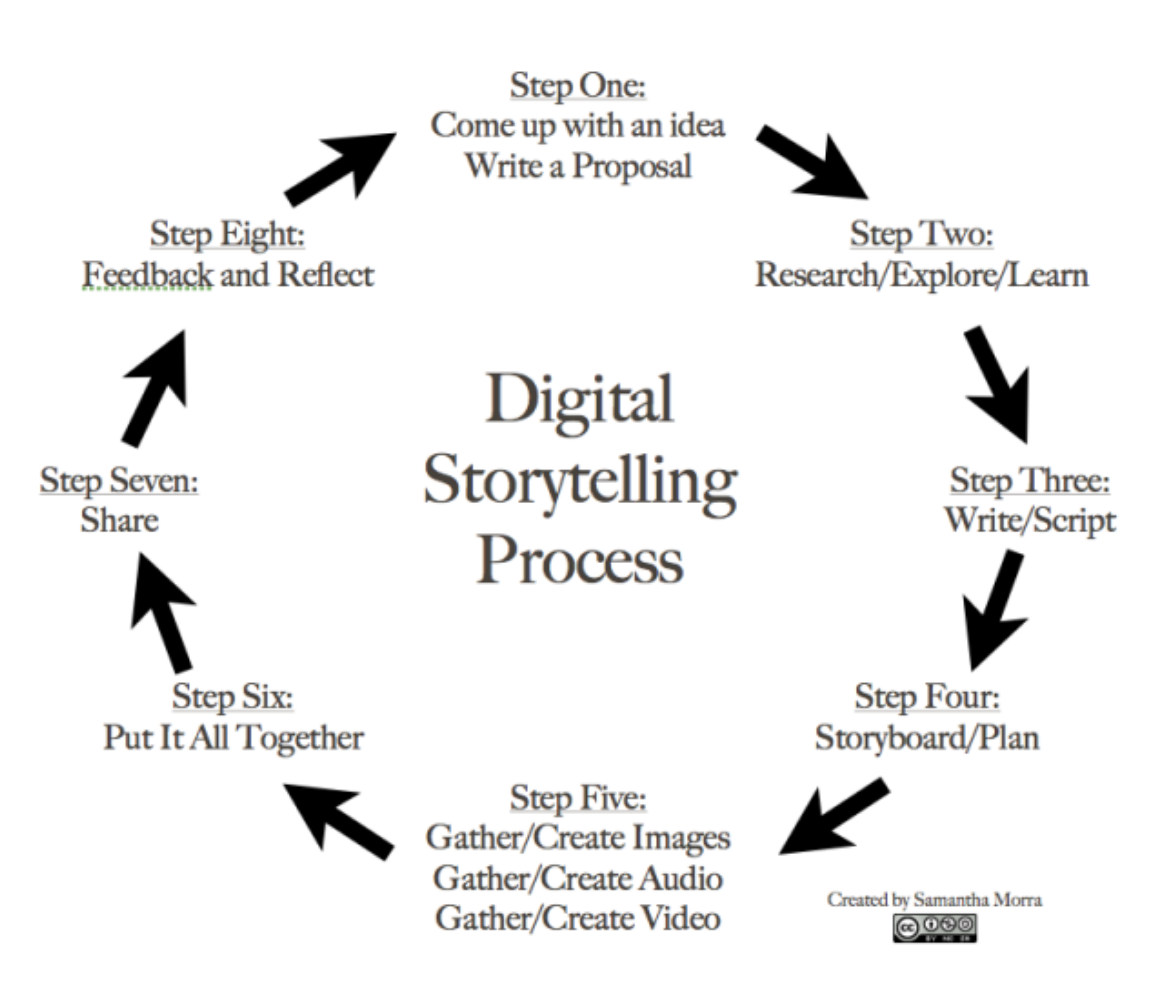 A graphic with composition stages from Samantha Morra shared during the workshop.
Materials for further explaining elements of digital storytelling can be found on the UW Libraries in Tacoma website.  Instructors can use these topics and resources to develop activities and short assignment prompts that scaffold and build to a major digital storytelling assignment:  http://guides.lib.uw.edu/tacoma/digitalstorytelling
The section on "Getting Started" includes topics like conceptualizing your story; finding audio, video, and images for use; considering ethics and participation; and storyboarding and scripting your story.  There are also some example projects that can be used as models.
On the technological support side, UW Information Technology offers regularly scheduled workshops for students and instructors on the Seattle campus that cover how to use particular technology and software resources, especially audio and video editing programs and platforms. Instructors can gain familiarity with programs students may be using, and/or students can be asked to attend a session of their choice on a program that will help them complete their intended project.  The UW-IT calendar with upcoming events is available here: https://itconnect.uw.edu/learn/workshops/.  They can also be contacted to request a classroom instruction session if there is a particular program all students will be using.
As an interface with other kinds of writing, the process approach to digital storytelling can be combined with more traditional written project proposals, submitting other formats of research that are then translated to a digital project (or vice versa), incorporating writers' memos or reflection statements to identify rhetorical choices and intended effects.
For composition classes specifically, issues related to drafting and feedback are also important.  Some free program options for providing video feedback include Panopto and Screencast-o-matic for recording screen casts.  This would allow an instructor or fellow students to watch, pause, and respond to a video at specific points and provide audio commentary feedback on an individual basis.  As a web-based alternative through the University of Minnesota, VideoAnt provides a way of annotating a video with written comments connected to certain time points in a video.  It also makes collaborative feedback available since anyone with a link to the same video annotation project can add more written comments.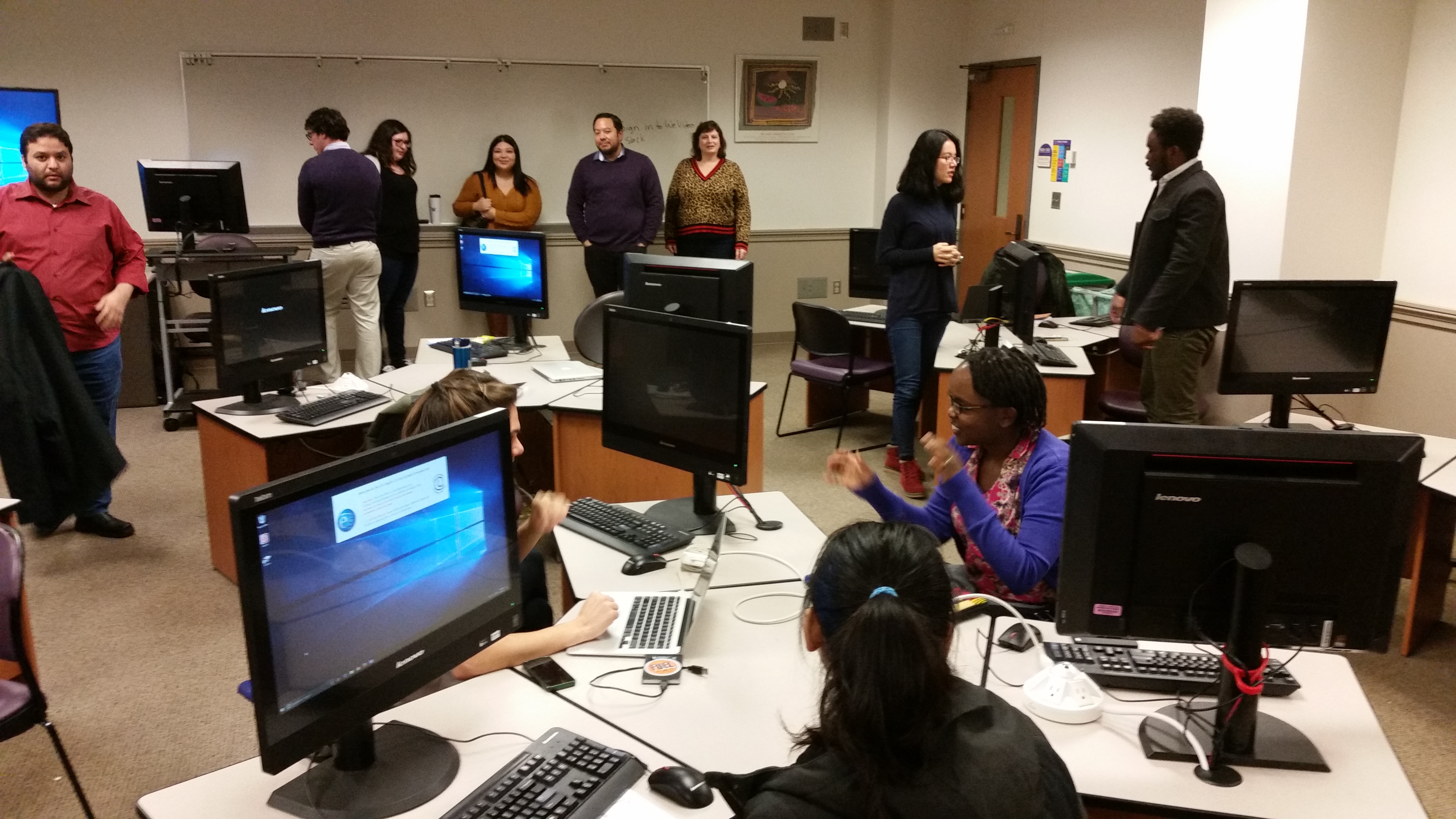 Workshop participants converse about their introductory video projects and research.
Notifications for upcoming DSF workshops and registration can be found on the Research Commons Facebook page.  For further questions on more specific digital storytelling issues, the following librarians can be contacted:
Elliott Stevens, Research Commons Librarian res22@uw.edu
Perry Yee, Online Learning Support Manager perryyee@uw.edu