On Monday, Kimberlee and I went to check out UW's very own makerspace, which is called CoMotion Makerspace.  For those of you who are not aware, a makerspace is a collaborative space with a variety of creation tools that can be used for DIY projects.  Spaces like these have proliferated around the country, particularly in urban areas.  There are other makerspaces in Seattle like SODO Makerspace, Seattle ReCreative, or Metrix: CreateSpace.  And of course there are many shops on UW's campus.  CoMotion Makerspace is different than the shops on campus because the goal of the space is to host as many fabrication tools as possible and to welcome users of all skill-level.  What I feel like makes CoMotion Makerspace such an intriguing space and pedagogical tool is its ability to foster cross-disciplinary project based learning here on campus.
CoMotion Makerspace opened its doors just last year, and it is located at Fluke Hall in Suite 215.  For those of in Padelford, that's a 5 minute quick walk.  We encourage you to check out the space when you have time!  In case you decide to visit the space on your own, want to use the space for a project you're working on, or you'd like your students to use the space on their own time this quarter, here are their Spring Quarter Drop-In Hours: Monday-Friday 12:30pm-8:30pm // Saturday 9-6pm // Sunday 12-6pm.  Closed for University Holidays (Memorial Day, May 30th).
Registered matriculated UW Seattle students, full-time UW faculty and staff (all campuses), part-time UW faculty and staff (all campuses) who work an average of at least 16h/week, and visiting scholars all have access to the space free of change (see their FAQ for more information on eligibility for other users).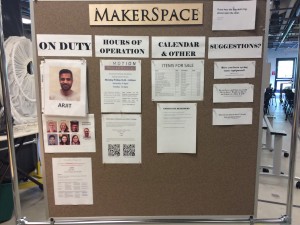 To use the space, you must do a safety training, which almost ~1,100 people have done in the past year. The event calendar hosts information about the safety training.  Once you're done with the training, you can then use the space during drop-in hours.  There will be someone on-hand to ask for help on various machines.
CoMotion Makerspace also has the potential of hosting events, like the think-a-thon that you see the aftermath of below: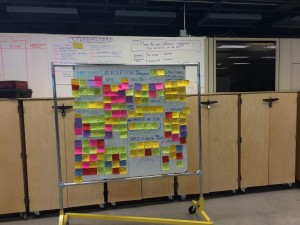 But perhaps most exciting for us, CoMotion Makerspace can host your classes in future quarters, either weekly, bi-weekly, or for one/multi-time use.  Their availability is in the mornings (typically before 12.30), and there is a Catalyst request form for you to fill out.  There is a fee for classroom use, and if you plan to use fabrication equipment, CoMotion Makerspace staff must be present ($30/hr).  Email CoMotion Makerspace staff at mkspace0@uw.edu if you would like more information.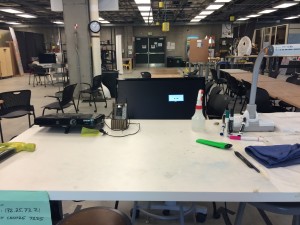 If you do decide to reserve this space as a classroom, you will have a teaching station with a computer, projector, and document camera.  Almost everything in the space is on wheels so you can configure and re-configure as appropriate for your classroom needs.  And of course, you will have access to all the equipment in the space. To list just a few things that might be of interest to you, they have laser cutters, industrial sewing machines, 3D printers, a circuit board mill.  It's an adult playground.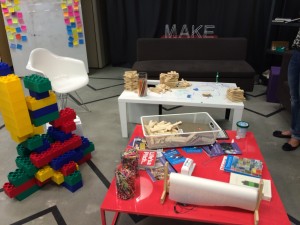 Regardless of your experience or comfort level — or your students' experience or comfort level — all are welcome to make and play in the space.  Perhaps what struck me most when we were touring the space is how much it inspired creativity and collaboration.  Some of us reading this blog (including me) sometimes struggle with stepping outside are comfort zone.  We're experts in alphabetic writing projects, and it might be foreign to spend time in a space that incorporates so many other ways of meaning making.  I think this space welcomes us to interact with composing tools that we may or may not be familiar with, and (I hope) our experience in the space will broaden our understanding of what counts as composition, both in our classes and in our own work.
The equipment that CoMotion Makerspace has at its disposal is extensive, making the space valuable to various audiences: UW groups, classes, and individuals.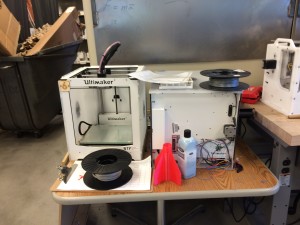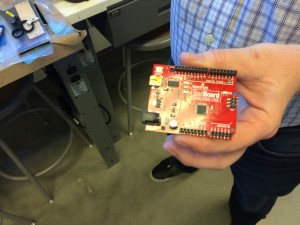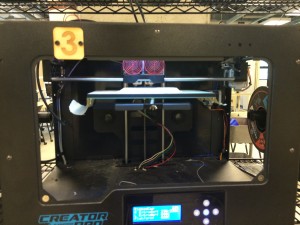 And to use the making equipment, you can bring your own materials or purchase from CoMotion Makerspace.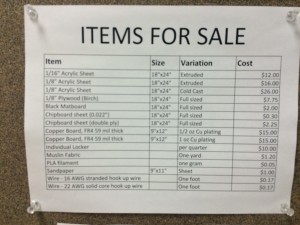 If you have any questions about the space, please feel free to leave them in the comments or contact me.  I have a lot of ideas for how EWP/IWP instructors might use the space for one-time use, sequence, or an entire class, so contact me if you'd like to talk more about that.  Feel free to leave your own comment with ideas of how you might use the space.  
By Jacki Fiscus